At the end of April, I had the opportunity to go to the Virginia Greenways and Land Conservation Conference in Harrisonburg. An annual conference where trail experts and conservationists from all over the Commonwealth converge to discuss best practices, lessons learned and share our mutual enthusiasm for all things trails and greenways. It's basically an absolute joy to experience!
Learning from other trail systems that I admire at both the non-profit and state level and bringing ideas back home on everything from wayfinding signage and sensory trails to DEI outreach, federal grant funding opportunities and protection of resources within the Chesapeake Bay watershed, still has my head spinning with possibility. It's always reassuring to know that other communities share similar concerns and challenges but have been able to find creative solutions, work together regionally, and foster communication and coordination amongst each other.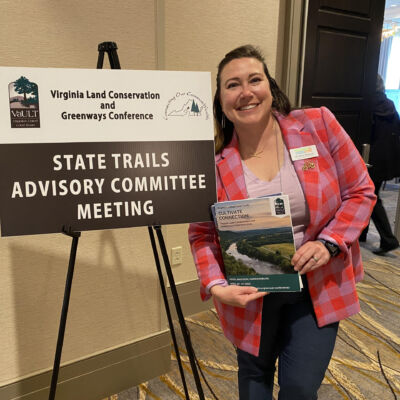 A highlight was getting to hear Senator Hangar, the keynote speaker, announce one million acres of Virginia land conserved stemming from the Land Preservation Tax Credit bill. Hearing personal stories from landowners who set aside property for the express purpose of conservation was moving. As was connecting with high school students in Pulaski County who set out to create a sensory trail in their community that is truly accessible to all.
It was especially gratifying to meet so many people from across Virginia who have visited the Elizabeth River Trail and told me how much they loved their experience. They sang the praises of our waterfront, the history, the amenities we've built, our branding and signage and over and over again I heard, "you all have such an active trail!" Returning home to our ERT, I am grateful for what the Foundation and this community has been able to accomplish in such a relatively short time, but I also see the possibilities, the connections, and the need for continued support as we connect regionally. Sometimes it takes going away to appreciate the value of what we have right in front of us.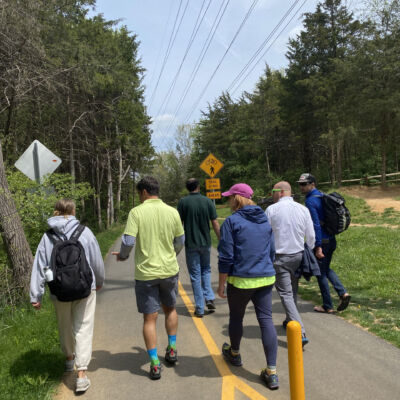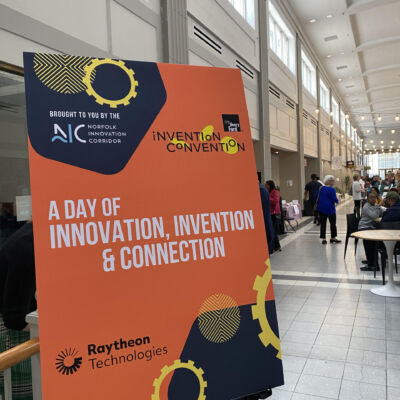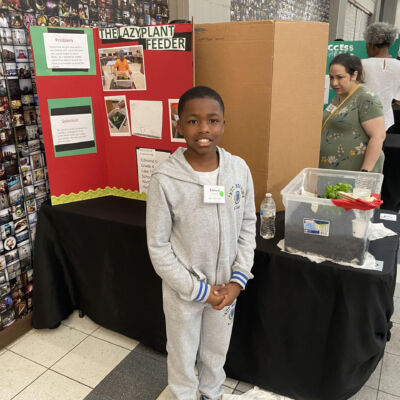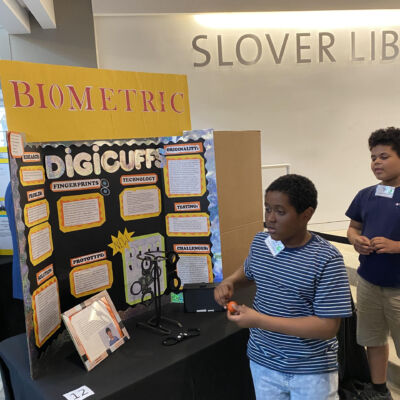 In May I had an exciting opportunity to witness a community partner's long dreamt vision become a reality. Many of you know that the Norfolk Innovation Corridor (NIC) runs parallel to the ERT, sharing many of the same amazing assets and institutions, (NSU, ODU, Sentara, EVMS, etc.), but did you know the ERT and NIC also share the same office space? We're incredibly fortunate that Linda Peck, Executive Director of the NIC and Greater Norfolk Corporation, (and ERT board member ex-officio), has housed the trail in her office space for the past year. There is a lot of synergy between our organizations and one of the things I love most is getting to see firsthand the work the NIC is doing to bring innovation to our city.
Linda has had a vision for an Invention Convention for as long as I have known her and after over a year of hard work and collaboration with Norfolk Public Schools, the halls of the Selden Market were filled with young inventors eager to share their ideas with the public at Norfolk's very own Invention Convention.
Entries from elementary to high school students, each as innovative, creative, and relevant to today's needs and concerns were on display. From progressive recycling methods, and systems to help us know what to recycle, to sustainable building materials, ways to clean our waterways and generate alternate sources of power, to helping alert the authorities and protect against human trafficking, it is clear that our young people are aware of the difference they can make on the world and the problems that desperately need solutions. It was a delight to see these bright minds at work and even more so to see such a successful NIC program come to life.
Finally, as we wrap up what is always an incredibly busy month for us, Bike Month, we also recognize the graduates of our anchor institutions. Seeing all the future nurses, doctors and therapists of EVMS, the scientists, educators, and artists of NSU and the engineers, poets, and historians of ODU along with the rising leaders of the invention convention, it seems like with more trails, greenspace and these bright minds, we are all going to be just fine.