You've probably heard phrases like,
"You don't know, what you don't know."
Or
"I don't know what you don't know."
These statements make sense when it comes to our jobs and training. They also make sense outside of work, particularly when we are volunteering and representing an organization. At the core of both of these sentiments is the need to learn. The ERT must learn about the people who use and don't use the trail. The people we encounter, (hopefully), learn about the trail and how they can use it to their benefit. We share our passion for the trail, the many ways it can be used, its history, its impact on Norfolk, and the direction we aim to travel in. We also learn from the people who visit our table, come to an event, or reach out to us and what the trail means to them. This kind of learning from each other isn't possible in a day, let alone the few minutes we may speak with someone at an event. It's a continuous process in which many moments lead to a better understanding.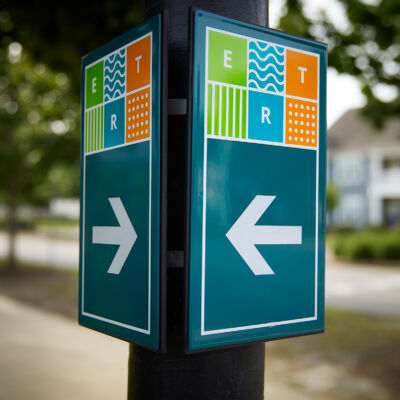 It was a gray Saturday morning and the ERT was being represented at two events. I started the day at a community event near NSU while one of our volunteers hosted the ERT table at an event in Freemason. We'll start at the beginning, literally, with the community event at the start of the trail.
Despite being so close to the ERT, many of the people I spoke with were unaware of its existence or had only heard vague references to it. One of the (from my perspective) strangest questions we've been asked is how much it costs to go on the trail. Talk about shock! But, again, we don't know what other people don't know.  We want everyone to have access to the trail and feel safe and welcome while on it. The struggle is, what if they don't know about the trail, what if they perceive the trail as not being for them? How do we create connections or change perceptions?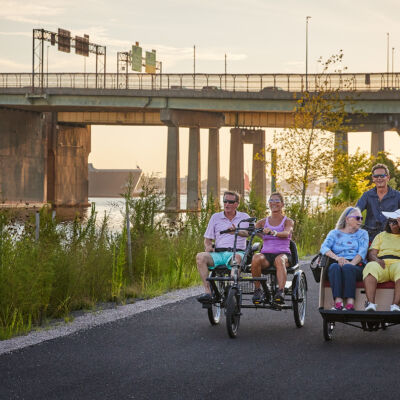 If this seems foreign to you, just remember, "you don't know what you don't know" and, you don't know what others don't know. We are constantly learning what people don't know in order to provide accurate information as well as to raise awareness and share all that the trail has to offer. Everyone has a place on the trail. Helping them find it is at the core of the work of our Master Planning, Events, Marketing, and DEI committees. Providing access, creating opportunities for new trail users, and creating a sense of community is a top priority for the ERT.
Surprisingly, there are a lot of people who don't know that the trail is open to them, that we work to create an inclusive trail, and that our greatest joy is seeing the trail enjoyed by everyone. The ERT has to be present as much as possible, telling our story, sharing the trail, encouraging people to find their place on the trail, and supporting those efforts. It's a lot of work and time, but the investment is well worth it!
Let's turn now to the event in Freemason. On that same Saturday, the community event got rained out about halfway through, so I headed to Freemason to check in on our volunteer. This event wasn't nearly as large as the community event by NSU. Instead of being set up in a large parking lot near a busy intersection, this event was along the water near the Pagoda. Though it was a gray day, the water views are always great especially when accompanied by a beautiful garden. 
Instead of telling people where the trail was, that it could be used for walking, and highlighting the many features, this crowd was more concerned with events and maintenance. This community is very aware of the trail and feels a strong sense of ownership. Instead of talking about how long the trail is or different amenities, I spoke with a resident who was interested in getting a group of divers together to do a cleanup in the river, a wonderful idea I hope to help carry out in 2024. Although it wasn't the first time, the differences in the conversation, perspectives, and concerns of these different communities really struck me.
At some point in our lives, many of us have been asked to try and put ourselves in someone else's shoes. When it comes to community outreach, it can be difficult. We don't know what others don't know about the trail. How do we learn about another perspective? How do we share the right information that welcomes people to the trail? How do we change negative perceptions of the trail? This is where our volunteer committee members really shine. A group of people with different experiences and perspectives, committed to sharing what they love, is really quite powerful. No, we cannot always change perspectives, but we can gain the insight needed to better understand different perspectives and that is invaluable.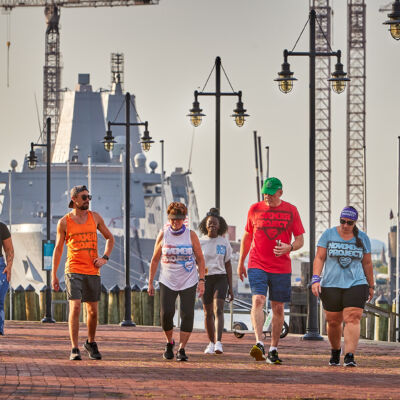 When we venture into unfamiliar or new territory, where our perspectives and experiences are different from others, we are also in a great position to learn. Learning requires patience because it takes time and effort because we are present, active listeners and open to hearing from others. We've had the opportunity to share the trail with so many and introduce it to many people as well. Every time we hold an event or host a table, we get to hear from trail users, whether it is their first time or their thousandth time. Even at the same event, we'll hear different perspectives and each one is internalized and plays a role as the ERT Foundation moves forward. You'll hear us say that the trail is a storyteller, a bridgebuilder, a sponge, and so much more. Let's shine a light on the trail as a bridgebuilder, connecting people and places, and inviting varied experiences and perspectives to share one trail, your ERT.