This month marks one year of our relaunched website. When we were providing our wish list to our amazing site designers, we knew we wanted to have a blog. To have a space to tell a bit more about the trail and our Foundation's story and to have the opportunity to spotlight the incredible donors and volunteers who keep us going. If you've been keeping up with us for the past year, you know how busy we are with programming, capital projects, fundraising, volunteer recruitment, grant writing and so much more, all with a staff of two. It's often hard to recap a month because they are such a blur of activity. I want to talk about balance.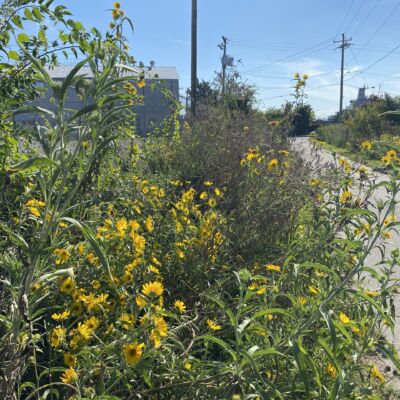 September started with the Elizabeth River Run. More than six months of planning went into executing that race, and we were graced with a perfect summer day to show off the trail to over 750 runners. It truly takes a small army to make those 6.2 miles happen. When I look at the volunteers for water stops, course marshals, finish line medal attendants, after party wranglers, Norfolk police, EMS teams and Sentara physicians and nurses who supported the medical tent, not to mention our cheering neighbors along the race course, I am humbled to see the spirit of volunteerism and service at work, and this race which is made in Norfolk, just like the ERT, is such a reminder of the power of community.
We were full of celebrations this month. We welcomed our new City Manager Mr. Patrick Roberts at the Downtown Norfolk Council meeting, eager to learn about his priorities for a safe and equitable city. We attended Visit Norfolk's annual celebration and were awed by the keynote speaker, Visit Baltimore's Al Hutchinson's, reimagining of Baltimore as a city "unapologetically proud" of who they are. We attended the ribbon cutting for TCC's Visual Art and Design Center and imagined an ERT full of public art from these talented students. Then, we officially opened and dedicated our own Pocket Park on the ERT with the first community needs pantry on the trail.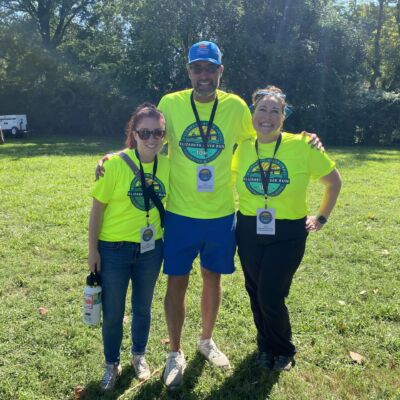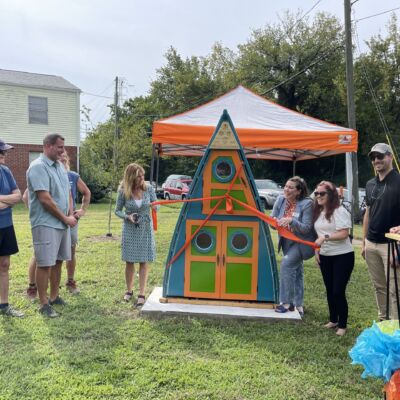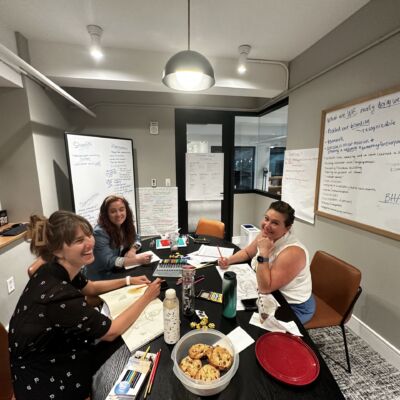 All of these inspiring things converged this month as we set aside time for a staff retreat. As you know, that's two of us. Most of the time we do the best we can with the resources we have. The energy from the month was palpable. In those few hours away from our office, and the many emails and meetings, we allowed ourselves to dream. To imagine if we had a larger staff, a dedicated grant writer, sustaining donors, an endowment, a permanent trailside home…we were dreaming big, and wow, the possibilities of what this Foundation could accomplish were incredible. Our board Chair and Executive team joined us for a time and shared their thoughts on our strategic plan and we all dreamed together.
We looked at the things we know we need to improve, but we also looked at the things we think we get right. We made sure to spend time on the This is it! moments. Those moments that remind us why we do this work, and guess what? It's you! This whole month, all of this greatness, happening right here! Sometimes it's hard for us to see it all. To celebrate the successes, when there is so much more to do. We see the ERT as a gem not just for Norfolk, but for the region, and to be part of Visit Norfolk's celebration, to be feet away from a state-of-the-art design school, to have City leadership support a future where we are all safe and included, this is where the real work of the ERT Foundation can shine.
Part of our retreat included spending time on the trail. Often, we are so buried at our computers that we must consciously and intentionally make time to step away and get on the trail. In just a brief stroll on the trail, we witnessed the splendor of the Chelsea Managed Meadow in September and reflected on how far that space has come, and as we approached the Fitness Course near Plum Point Park, we were stunned to see it fully occupied by military personnel doing their daily PT.
I had to interrupt. I had to thank them. We had just been talking about the importance of Trail Moments. Why do we do what we do? This was it! I thanked them for their service, but mostly I thanked them for using this trail, and for using this amenity that was built and supported by the community, for the community.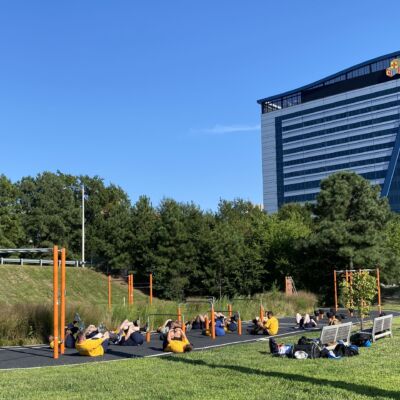 So where does balance fit into all of this? We wouldn't have had that moment, that simple reminder, if we hadn't stepped away.  As a Foundation, we talk a lot about how we balance the many needs of our existing trail with the desire to also grow. We know the importance of regional connectivity, and the results of our Urban Land Institute Advisory Services Panel tell us that this trail and Foundation won't thrive with its existing 10.5 miles. We have to serve more of Norfolk. Because Norfolk is more. Our region is more. It's deserving of these amenities, of this connection, of these trail moments, and the truth is, we need your help.
I hope when you think of community, you think of the trail and the part you play in its future.