Trailblazer SPOTLIGHT: Bailey Sullivan
Name: Bailey Sullivan
Years lived in Norfolk: My whole life!
Job: College Student
Current College: Senior at Old Dominion University
Degree Program: Bachelors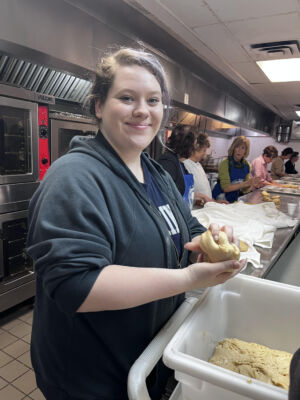 What degree are you working on and why did you choose it?
I am currently working on my Bachelors with a major in Biomedical Sciences. I chose this major because I have a love for science and plan to apply to medical school in a year. 
What do you like to do in Norfolk when you're not busy with school?
If I am on campus and have free time then I love to walk the ERT on the section that goes through ODU. If I am not on campus I like to watch sunsets at the beach.
Aside from the ERT, what other volunteer activities do you do?
I am an active volunteer at my church and help the older ladies bake sweets for our Greek festival. I also help children with disabilities do gymnastics every week.
How did you get connected to the ERT?
My aunt Kindra introduced me to the ERT and I have loved helping her since she has been with the Foundation.
Do you have a favorite project you've helped with on the trail?
I think the most iconic project so far has been The Glowline and helping with its opening!
How do you think Norfolk benefits from the trail?
Norfolk benefits in so many ways from having the ERT. It allows folks a chance to connect with nature and also lets us decompress from our daily technology use.
What do you tell people about the trail to get them interested in it?
I would say "Want to witness and join an inclusive, welcoming, and friendly outdoor area? Look no further than the ERT!"
What is your favorite Spot on the trail?
I genuinely love The Glowline area at Jeff Robertson Park. With all of the towering trees and the way The Glowline comes to life at night, it's truly spectacular and a must see.
Favorite Trailgrazing spot? (i.e. best local food spot steps from the trail)
It's a block off the path, but a go-to favorite is the Chelsea Bakehouse. They're food is always so fresh and delicious.