you + me + We = Community
I always tell newcomers that the best way to get to know the community and experience Norfolk is by way of the Elizabeth River Trail. Month after month I fall more in love with our trail community, the connections we make, and the people that make up our region. This month I felt such an overwhelming sense of community that I've been thinking a lot about what that word means.
We can be geographically or physically part of a community, or we can feel a sense of belonging, fellowship, or affiliation with a community. I see it as being cared for and caring about the well-being of a group/place as a whole and the individuals within it. I also very much recognize that a community can feel divided and not cared for.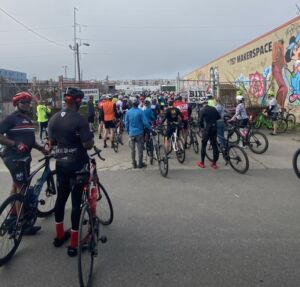 This month I was completely immersed in community. I had the privilege of honoring the life of Michael Shipp by riding in a Memorial Bike Ride, and then immediately going to the ERT's Walk and Talk series focused on Mental Health. On a bicycle in a sea of people, nearly 350 strong, riding to salute a local business owner and pillar of the cycling community, there was a palpable sense of cohesiveness, inclusion, support, and solidarity. Anyone on a bicycle was a part of that community, no questions asked.
As I arrived at the start of the Walk and Talk, community partners from all over the city and from every background were there to support putting mental health at the forefront of discussions on health and wellness. By being there you were part of a larger whole, an important part of unraveling the stigma that exists around mental health and lifting one another up to better us all. Along the one-mile walk of resources, there was a sign that said: "When 'I" is replaced by 'we' even illness becomes wellness." How powerful is that?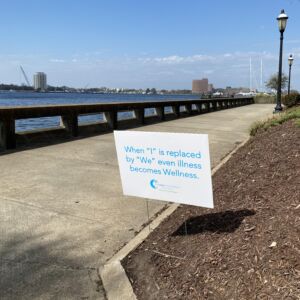 Additionally, this month I had the opportunity to attend a roundtable with city and state leaders on the Norfolk I-264 Reconnecting Communities Project. The city was a recipient of a federal grant that will allow them to study the removal, improvement or replacement of the transportation barriers that cut off historically black neighborhoods from downtown and our beautiful Elizabeth River. The ERT's open-access connection to our waterfront is integral to our mission of building an inclusive, resilient connected trail.  At the heart of the Reconnecting Communities Project is equity and how the burdens of past infrastructure decisions have impacted black communities for generations. The ERT is actively working on finding ways to connect to the future St. Paul's blue/greenway park because everyone deserves bike and pedestrian infrastructure.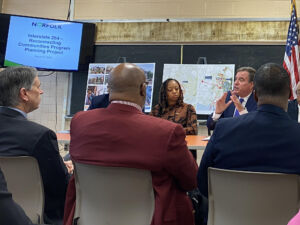 Later, I met with Amir Driver, the owner of Made in Norfolk to talk about collaborating on new ERT apparel. The Elizabeth River Trail was Made in Norfolk by the community, for the community. We'll continue doing our part to be at the intersection of these big conversations. When we say #yourERT, we mean community.