Trailblazer SPOTLIGHT: Liz Paiste
Name: Liz Paiste
Affiliation: Garden Club of Norfolk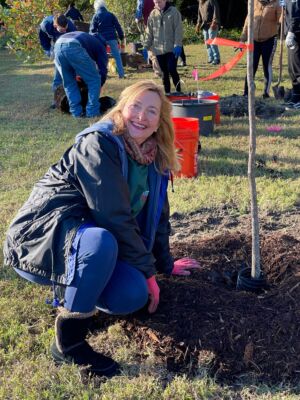 How did you get connected with the Elizabeth River Trail and what does it mean to you?
After graduating from William & Mary, I moved away and spent my working life in Pennsylvania where I came to appreciate the lush hills and large public green spaces in my PA city.  Leaving behind those green spaces when I retired to move back into my childhood home was tough.  However, I had noticed, during many visits to Norfolk, that wonderful changes had taken place here. it wasn't until after I moved here when the Pandemic hit that I discovered the existence of the Elizabeth River Trail. That was four years ago. It was amazing. My husband, Jeff, and I dusted off our bikes and road along the trail by the Larchmont Library over wooden bridges that meandered through the winding streets of Larchmont through the beautiful ODU Campus, around the bend to Jeff Robertson Park, and ultimately to our wonderful downtown area. We loved it! The Elizabeth River Trail became the thread that connected us to all the nooks and crannies of our new home. I felt Norfolk was no longer a cluster of individual neighborhoods but was now one big neighborhood filled with history and nature.
How long have you been with the Garden Club of Norfolk?
I joined the Garden Club of Norfolk in 2020. I wanted to be part of a club that focused on community outreach and improvements.  It was Connie Kellam, our past club President, who suggested that my co-chair, Mary Beth Horton, and I look for ways our club could partner with the ERT.  We were celebrating our Olmsted Initiative, which is a committee within the club to improve our parks for the wellbeing of our community.  That was the beginning of our beautiful partnership with the Elizabeth River Trail.
How has the Garden Club of Norfolk Supported the ERT and why?
We chose to enhance Jeff Robertson Park in West Ghent.  With the help of Parks & Rec and an incredible number of volunteers, we planted 32 native trees, 124 native bushes and over 1850 perennials with an additional Fall planting coming this year.  We are currently raising donations to help install a hydration station at the site so walkers and their furry pets have a place to refresh themselves.  It has been touching how many of our donations come from individuals in memory of a favorite pet or loved one.
How does the ERT benefit Norfolk?
The ERT is one of the best things that has happened to Norfolk. I love that it continues to grow and improve and that I can be part of that. Expanding and enhancing this trail where we can safely walk, ride bikes, or jog throughout our city offers everyone a chance to explore the wonders this historic home of ours offers. 
Favorite Trailgrazing spot? (i.e. best local food spot steps from the trail)
One recent favorite is the new neighborhood winery, Waters Edge Winery and Bistro, but there are many one-of-a-kind local places to choose from.
Final thoughts?
The Elizabeth River Trail is open to everyone and belongs to all of us.  Let us be part of its growth and beauty and may we each leave a legacy for future generations to enjoy!