Trailblazer SPOTLIGHT: Devani Jolman
Name: Devani (deh-va-nee) Jolman
Job: PhD Student
Current College: Old Dominion University
Degree Program: Ecological Sciences PhD
Years lived in Norfolk: 2
Email: [email protected]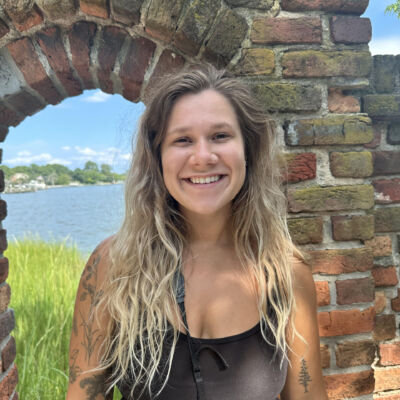 How did you get connected with the Elizabeth River Trail? How has the ERT been a part of your life? 
My partner and I moved to Norfolk about two years ago so that I could start my PhD at ODU. I bike commute to school almost every day and I use the ERT for about 90% of my route. Additionally, we use the ERT weekly for running, and we bike on the ERT for our community bike rides with the Local Bike Shop NFK. As people who love the outdoors but are living in an urban area, we are so thankful for the access to a long and well-maintained recreational path.
What are you studying? Why did you choose that area of study?
I am pursuing a PhD in Ecological Sciences at ODU, but I would call myself a Plant Ecologist. I adore plants; they bring life, color, and beauty to our world. Unfortunately, although plants sustain this planet, most people have plant awareness disparity or a lack of knowledge about or interest in plants. I chose this path so that I can 1) bring awareness to others (i.e., the public, students, and other scientists) about the importance of plants through education and 2) add to the knowledge base and management of plants through research.
How does the ERT connect to your studies?
As mentioned above, I use the ERT for my daily bike commute to and from school. It is amazing to have such an accessible and safe route to take through a busy city. It gives me a space to breathe and either prepare me for school or destress after a long day. Additionally, the ERT goes through many different habitats, restoration areas, and communities that excite me and remind me of the importance of plant research and education.
What do you love most about teaching others?
Education is beautiful. Well-communicated science can bring everyone, no matter their background, race, religion, etc., to the same table of excitement and understanding. It can unite people on a common topic, cause, or issue and it provides a safe space for people to shift their perspective or understanding. I love teaching because I can talk about something that people may pass every day, usually a plant, and transform it into more than just an object; I can teach people to see it as a life, as a piece of magic, as something that is worth saving and protecting. I have been blessed to teach on a variety of biological topics in Michigan, Vermont, and now Virginia! Education is the key to loving people and loving this planet.
Why is it important for people to learn about their local environment?
In general, until you know something, or take the time to learn about something, you will not care for it. This is the same for our environment – until we take the time to stop, look around, and place ourselves in that place, we will not care for it. By learning about the local environment in Norfolk, we will strive to protect, manage, and love Norfolk!
What role does the ERT play in conservation, sustainability, and resilience?
The ERT is a beautiful resource in a city that is primarily covered in concrete. To have an accessible trail that winds through an entire city and passes through multiple green spaces is a privilege and a gift. The ERT gives the citizens of Norfolk access to recreation, a path for commuting, and a way to celebrate community. Giving space for the people of Norfolk to enjoy and take pride in the city will inspire them to fight for the conservation and creation of green space, the long-term sustainability of the city, and the resilience of our natural habitats.
What is your favorite plant, why, and is it native to our region?
Right now, my favorite plant is my research plant – the Highbush Blueberry! Highbush blueberries are a native group of very large (up to 24 feet tall) blueberry shrubs spread throughout Virginia, especially in the Coastal Plain and Piedmont. Highbush blueberries are mainly found in wetland areas and provide essential nutrients to bees, birds, various mammals, and other plants. They have dainty, bell-like flowers in the spring, delicious blueberries in the summer, and red foliage in the fall. Also, I get to eat blueberries while I do my research (yum)!
What is your favorite spot or location on the ERT and why?
This is a hard one! My two favorite spots on the ERT probably are 1) the section after the Larchmont library that goes along the water, past Myrtle Park, and through the beautiful communities and 2) the section after the underpass that goes through Jeff Robertson Park and along the Weyanoke Bird and Wildflower Sanctuary and the Lamberts Creek. Both sections bring a lot of peace to me. Okay, I misspoke, a third spot would be Plum Point Park – I, along with my partner and some delicious baked goods, have shared nice moments on the benches up there.
Favorite Trailgrazing spot? (i.e. best local food spot steps from the trail)
Ah! I love food. Some of my favorite spots along the trail are D'Egg, the Bakehouse at Chelsea, and Orapax. But we have so many other places on our To-Go List!